In a truly exceptional year for all enterprises, the manufacturing industry has been forced to innovate at speeds arguably never seen since the industrial revolution. With economic concerns, supply chain disruptions, social distancing on assembly lines, travel restrictions and a looming Brexit - the need to digitally transform has never been more crucial…

Sanjiv Sachdev, Director, Strategic Value Consulting at Serviceware clocks in to give the insight in partnership with Kevin Bell, Partner at Centigo.
(This is an executive summary of the recent webinar "Managing the Cost of IT Spend in Manufacturing" )

---
Manufacturing and technology have a long-standing relationship. It's been a differentiator in the sector for decades. Perhaps you remember adverts from car manufacturers such as Austin singing the praises of their robots and Fiat's strapline of 'Hand built by Robots'.

Now robots are an expected part of modern manufacturing, with driverless devices delivering parts to on the assembly line. In these challenging times, manufacturers are at, or, have almost reached a very tough decision. Do they, either cut jobs to save costs and see experienced and knowledgeable colleagues leave the business or embrace technology for the future?


The CIOs objectives in manufacturing


Let's take a step back and remember that CIOs have two primary objectives:

1. Keeping the lights on and providing services at an optimal cost and quality

2. Progress the organisation's strategic goals to deliver business value

To meet these two aims, IT leaders in manufacturing enterprises need to know how much their IT services cost and what services are being used. The services provided need to be of a certain quality to enable the manufacturing processes to run smoothly and complex industrials need to know what future investment is required to transform the business to continually meet future needs.

COVID-19 has heralded the need for traditional back office functions to seek to re-invent themselves from cost-centres to value-centres in order to minimise the overall cost of business in times where profitability is low and money is hard to come by.


Releasing internal cash to keep business going is by far easier than raising it in the market. Serviceware, together with our partners Centigo have been working together to create an approach to enable organisations to quickly get a grasp on their IT spend, control and manage it and demonstrate value to the business by strategically taking forward the IT landscape to meet the demands of the "new normal." In short, we would see four steps to prepare your IT costs for the future.
The four steps to prepare your Manufacturing IT costs for the future


1. Characterize current configuration of IT footprint
Utilise existing tools to get a grasp of the baseline IT cost and its assignment across the business. This is to create "one version of the truth" all stakeholders can buy into and provide a platform from which to re-align the strategy, people, process and technology elements of the business to meet the demands of trading in the "new normal"

2. Develop reconfiguration designs using Agile
Draws upon Centigo's Agile philosophy to seek out opportunities to reduce costs, improve agility and build rigor into the future IT estate at a level of cost consistent with the organisation's specific objectives.

3. Model results and outline benefits for new IT footprint
Is where the Agile approach takes the results of the Serviceware declarations and against a number of foreseeable scenarios models and simulates organisational cost options so the business can choose the one most suited to its objectives.

4. Develop implementation plan, execute, collect quick wins
Is where the Agile approach helps turn the best-case option into a set of workable, actionable plans to move the organisation forward in a controlled and efficient manner allowing it to realise quick-win savings where these are available and plan for and execute against medium and longer term benefits with or without and further intervention.

The time to deliver this approach is governed by the size of the business, organisational complexity, geographical disposition and trading priorities. But as a guide and from our experience 4 to 12 weeks is a typical timeline.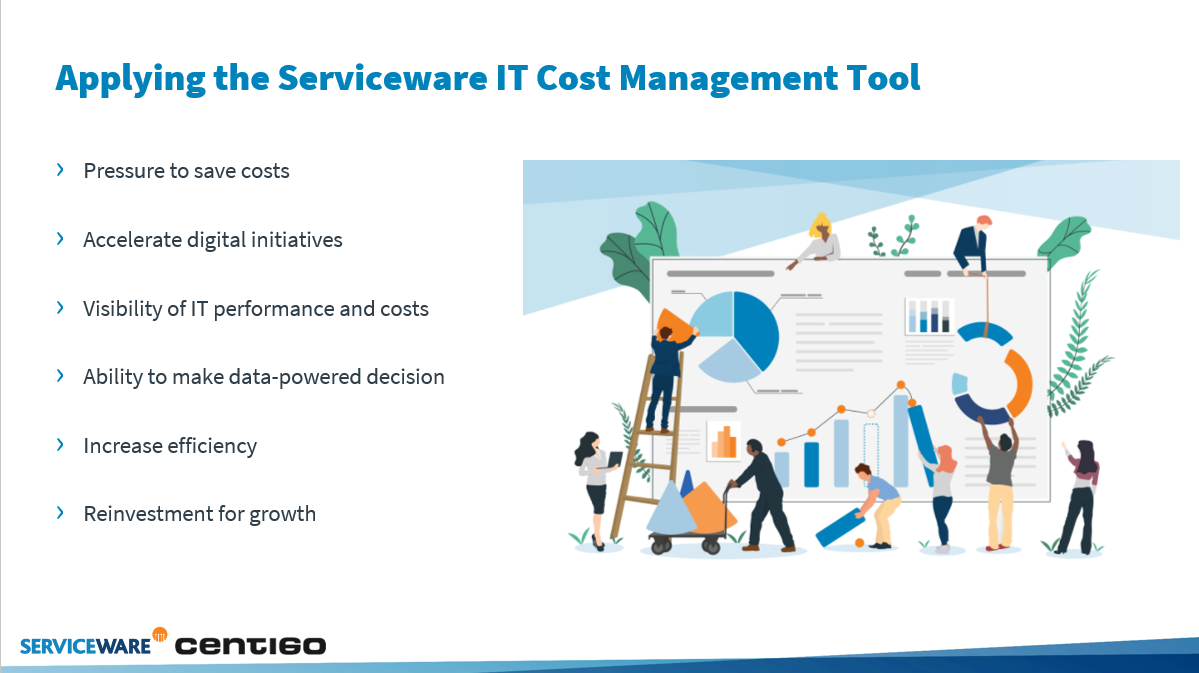 The challenge ahead for 2021


Manufacturers are under enormous pressures to save costs. Digitisation initiatives have picked up pace. IT leaders need to see how IT is performing - is technology meeting business needs and what is the cost of technology? Manufacturers have an abundance of real-time data much of it uncorrelated and disparate. CIOs need to bring these disparate data sets together using advanced analytics to make fact-based data driven decisions. If that's not enough, IT leaders need to help drive efficiency to make cost savings which could ultimately save jobs and be able to reinvest any savings to support and grow the business.

That's a lot to deal with, so how does a CIO do all of this?

For the full details including a case-study on how Serviceware was used by a large international manufacturer, you can watch the complete webinar with Kevin and Sanjiv here or simply contact us to find out more.
About your authors:
Our author Sanjiv Sachdev teamed up with Kevin Bell for this article.

Kevin Bell, Partner at Centigo: Kevin has held executive and senior management positions at General Electric, Deloitte, Celerant and Logica. He also has vast consulting experience with industrial and manufacturing clients including BAE Systems, Rolls-Royce, Airbus, BP, and Shell. Kevin also provides ongoing expert commentary to the UK's House of Lords and House of Commons.