You can find part 1 of this series on the topic of business transformation by clicking here. Part 2 on key areas of business operability can be found here. Finally, click here for part 3 on key learnings in revenue growth.
Dirk Martin, CEO and one of the founders of Serviceware, has one key mantra you will certainly never forget if you meet him:
We are never satisfied until the customer is satisfied


This mantra and obsession with customer service has resulted in Serviceware's own NPS scores hitting 87 (70 is considered "world class", Amazon's 2019 score was 62). The company is committed to developing software technology to enable customers to excel at service delivery, management and control using value-based views of costs and helping them re-engineer and optimize processes and services.
"Looking at the enterprise through a different lens" is behind the solutions they provide. On all the points drawn out in my posts, Serviceware's technologies are helping the largest companies in Germany deliver against these critical areas.
Recently Forrester prepared a study on some specific examples of how the Serviceware solutions deliver these benefits. Financially, they are significant and compelling for the enterprise.
"Show me the money" was always behind the questions I, as a CEO, asked when looking at change technology investments. The Forrester study provides a great and simple read to provide an answer to this question.
This makes compelling financial sense, before consideration of the bigger and much more dramatic impact the adoption of this type of solution can deliver to the enterprise from new revenue generation to enterprise-wide culture change. If you connect the dots between this type of technology and my challenges as a CEO it iss clear how this can significantly enhance long-term (and even short-term) shareholder value.

The Forrester paper focusses on the adoption of these solutions for the ever increasing and large cost areas of IT as the world evolves into a digital service-based economy where Everything is a Service (XaaS). The Serviceware Financial solution, however, extends beyond just the IT function and covers all functional areas and services of the enterprise and works well in Global Business Services (GBS) operations and shared service centers.
Forrester Study- Summary
Preface:
The Total Economic Impact (TEI) data was provided based on a composite of a company with an IT budget of €150M. The larger these budgets are then, the more significant the commercial drivers are to invest in these solutions.
Total Economic Impact Study for Serviceware
Serviceware Financial provides an IT financial management (ITFM) solution that helps organizations streamline financial management, accounting, and reporting of IT services. Serviceware commissioned Forrester Consulting to conduct a Total Economic Impact™ study and examine the potential return on investment (ROI) enterprises may realize by deploying the ITFM solution. The purpose of the study is to provide a framework to evaluate the potential financial impact of an ITFM solution on their organizations.
Key Highlights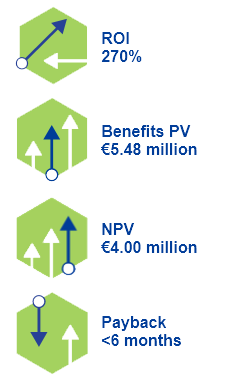 Key Benefits
Cost avoidance through demand minimization: €2.98 million
With the ability to track not just costs but also volume of services consumed, Serviceware Financial enables organizations to shift from a fixed-allocation cost model for shared services to a usage-based one. This incentivizes business managers to supervise their usage more prudently. The surveyed organizations took two approaches to cut back on their IT consumption: (1) Monitoring of costs to scale back on volume, and (2) retirement of unnecessary applications or projects. By cutting back on redundant consumption, the organizations achieved cost savings of approximately €2.98 million over three years.
IT spend reduction through unit cost benchmarking: €1.86 million
By consolidating data from multiple sources, the Serviceware Financial platform provided visibility and transparency into unit costs of all IT services, as well as corresponding performance levels. More importantly, this transparency into the cost and performance implications empowered business and IT leaders to make informed decisions about the IT services they chose. Surveyed organizations were able to identify cost savings of €1.86 million over three years by benchmarking unit costs and by opting for lower-cost services.
Improved IT financial management operational efficiency through workflow automation: €419000
Replacing manual-based processes centered around spreadsheets, Serviceware Financial also acted as a transaction system. With automation built into workflows, businesses minimized human error and effort during financial planning and reporting cycles. Based on our study of Serviceware customers, an estimated 7200 hours can be saved per year, translating into €419000 over three years.
Other improvements to ITFM operations included: (1) Line-of-business managers could now generate reports on their own, thereby reducing clarification requests and escalations to finance, and (2) improved collaboration and trust between IT and business units as the role of IT shifted from being merely a cost center to a valued business partner. These additional benefits have not been quantified for this study.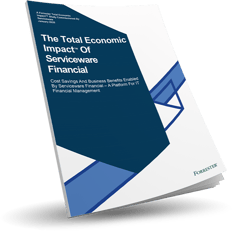 You can download the TEI study here.
I hope you have enjoyed my first blog series and that the experiences, challenges, and recommendations I have shared have been helpful. Wishing you well during these difficult and uncertain times and every strength for the tough commercial climate we face in the coming months. If our highly experienced consultants can provide any help or advice during these times please follow this link. I would really appreciate any feedback or further discussion, so please feel free to get in touch.