You can find part 2 on key areas of business operability here. Click here for part 3 on key learnings in revenue growth. And finally, click here for the last part on Serviceware as the key to solving current problems of digitization.
In the summer of 1998, I left my role as a senior executive at a US Nasdaq corporation to become a Chief Executive at a UK-based, FTSE-listed Global software company. My task was a major business transformation project to rejuvenate and rebuilding a company which had been in a gradual but terminal decline for the previous 10 years. This proved to be a complex and challenging assignment for the following 11 years, but one that I found enormously rewarding.
Re-inventing a business in times of recession
While trying to revitalize the business, there were at least two recessions to manage as well as the global financial crisis in 2008. The latter forced our shareholders to try to liquidate some of their value assets (including us) to ensure their own ongoing financial viability. There were also many other local, global, political, and economic changes which affected our business transformation plans. My engagement with the corporation ended with a successful sale in 2009 and the learning and experiences gathered during this period were hugely valuable.
Business transformation is a profound change in strategy, business model, organization, people, and processes; a fundamental reboot of the business.
I am sure the challenges I will be talking about are similar to what most C-suite executives experience every day and especially today given the impact the corona crisis will have on the economy. The magnitude of some of the challenges for the C-suite are not for the faint-hearted. The need for resilience, perseverance and emotional strength, keen intellectual analysis and thinking under stress, entrepreneurial flair, lateral thinking, strong leadership and solid financial knowledge of their company's value levers are all key skills of the successful C-suite executives of today.
The treadmill of business transformation
Boston Consulting Group (BCG) wrote an interesting and insightful paper aimed at the C-suite on "Transformation - Delivering and sustaining breakthrough performance." In this paper, BCG recognizes that today's business for CEOs and leaders of large enterprises is often experienced as being on a steep treadmill with the speed control set to max.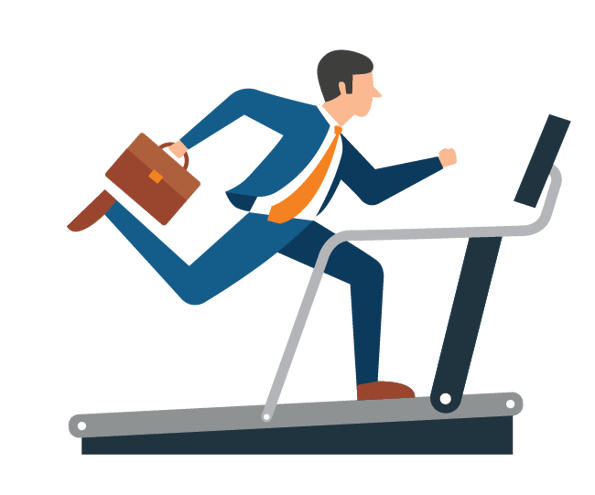 Today's C-Level business is a lot like a steep treadmill set to max.
To demonstrate this dynamic environment, BCG described a not too untypical series of challenges CEO's might face at any given moment in time. At various points in my career, I had similar multiple and BIG challenges to manage through. Their example described a Global Company's challenges where all of these scenarios might be playing out. Before global cost reduction and similar business transformation programs had taken root, recessionary issues and currency problems in Asia had cropped up and a new go-to-market plan for South America had been blocked by new Labour legislation. Furthermore, there were supply chain issues in China, new import control legislation in Australia, quality problems with new products released in the UK….all of these issues seemingly happening at once and all in urgent need of fixing.
Shifting the view to 'service' orientation
This is the world of today's C-Suite, perhaps even more so during the current crisis. BCG believe that this dynamic will continue to accelerate with major market disruptors in the form of further globalization and digitization. This forces the need for more and more agility, speed of action and great strategic decision making as well as accepting the need for a continual transformation dynamic and culture.
If companies are to respond effectively to these shifts and to realize the ambitions they have set for themselves, business as usual with incremental improvements is far from enough - instead, enterprises need to transform. Business transformation implies a profound change in strategy, business model, organization, people and processes; a fundamental reboot of the business, enabling it to achieve a sustainable step change improvement in performance and, ultimately, shareholder value.
This short but hopefully relevant introduction sets the scene well for the main tenet of this series of blog posts, namely, why a 'service' orientation view on your business is a critical and compelling component to the future sustained success of the enterprise.
In the coming weeks I hope to share my experiences, start conversations and spark ideas that can help you achieve your goals and reach your targets.
At Serviceware we recognise that these are challenging times for CIOs and CFOs, forced to make difficult decisions to ensure business liquidity. Our consultancy team has developed a series of videos and would like to offer their help.