Serviceware recently entered into a partnership with the Technical University (TU) Darmstadt for joint research in the field of artificial intelligence. The project is already starting to bear fruit across the product portfolio including the Content Creation Assistant in Serviceware Knowledge. Currently looking into further options to embrace AI for Serviceware Processes, Jonas Schneider of our Product Development team discusses the importance of AI for customer service centers of the future.
---
Most problems that appear within service centers have probably been solved before. Once a case is solved, it often comes back again from another customer or user. This data of 'solved cases' can be incredibly powerful in solving future incidents more quickly and efficiently, so utilizing and combining this data with the power of AI is something we have been working hard to implement.
An AI-driven solution assistant for customer service centers
Quite soon, AI will support service agents to solve cases more efficiently and with better quality. It will make this unstructured knowledge of solved cases easily accessible and usable to the service agent. It does so by showing the most similar cases (and their solutions) to the service agent, based on and retrieved by machine learning models that scan for semantic text similarity.
In a typical scenario, a service agent opens a new incident following a service center call. For example, an electrical device in a delivery warehouse is not working correctly. Next, the agent types in the problem description into Serviceware Processes as they create the ticket. Now, the AI functionality immediately starts working in the background to suggest the most similar solved cases in the database. The agent can now go through this list and find a case that most closely resembles the new incident at hand.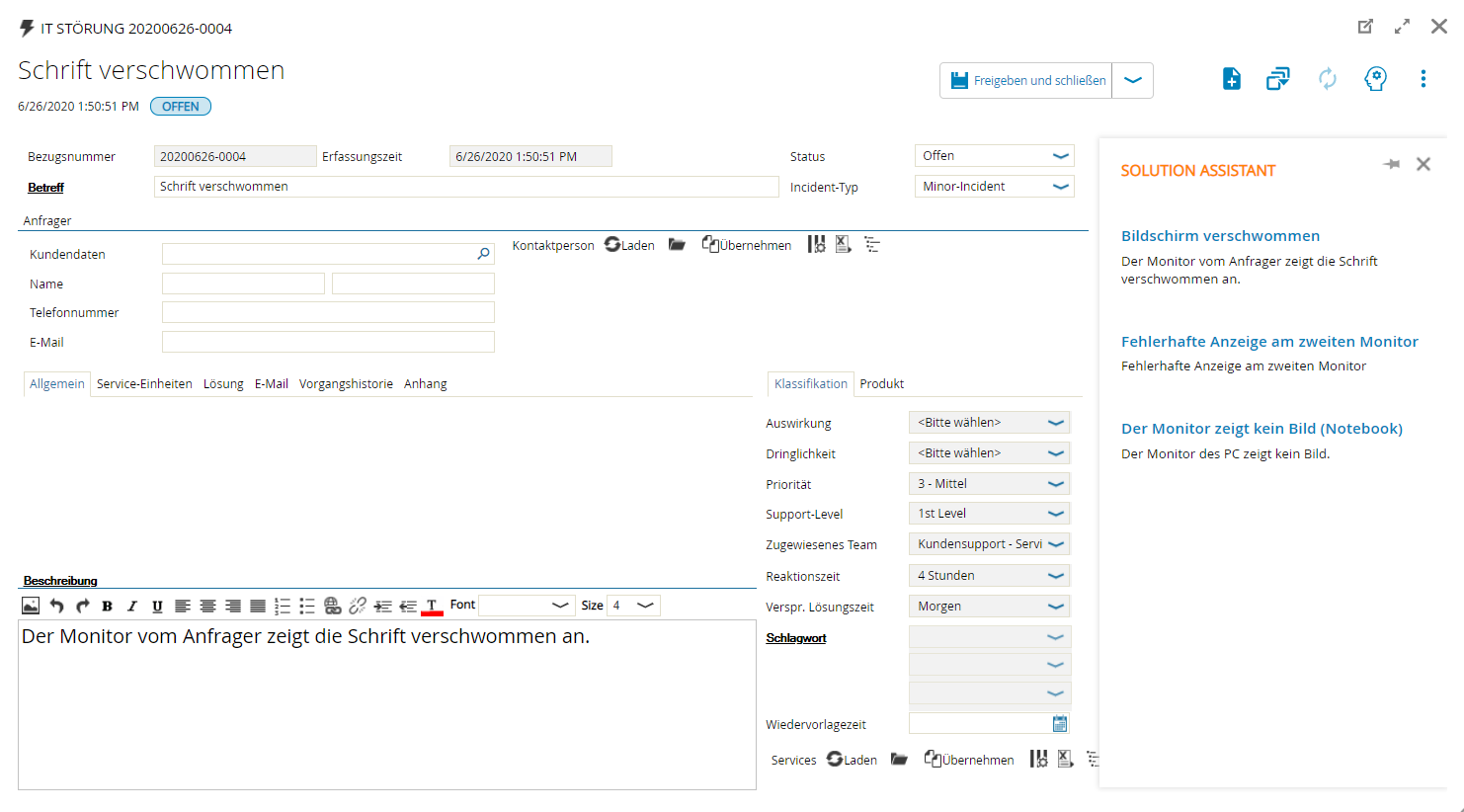 The service center agent describes the problem and the solution assistant provides matching suggestions (screenshot from a German test interface - no actual Serviceware product)
The agent simply clicks the matching case on the right side of the screen and checks for more details. They look at the solution and see that back then the problem was caused by a faulty power cable. Given that the two cases are quite similar to each other, this solution is very likely to be the right fit in this incident as well. Without wasting much time, the agent can then communicate the solution – in this case the replacement of the faulty power cable – to their colleague or customer and effectively close the case.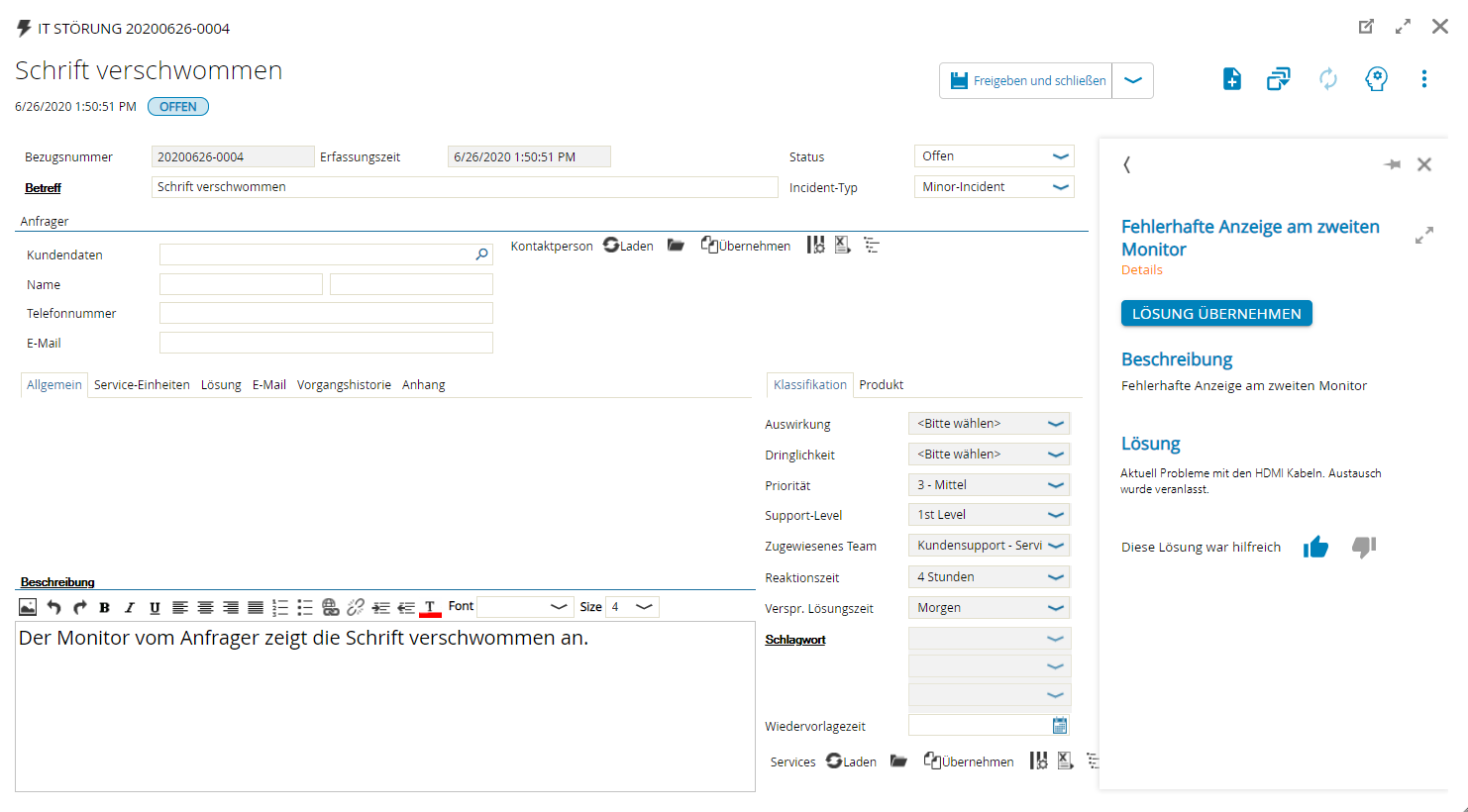 The service agent can check the details of each past case to find the right solution for the new case (screenshot from the German test user-interface, no actual Serviceware product)
Getting the customer involved early is crucial
Serviceware product development teams are working closely with customers to identify solutions that solve actual customer problems that are commonly encountered in these service center scenarios. We listen to our customers carefully and share prototypes of our concepts at early stages and take all their insights and feedback into consideration.
Currently our customers see a lot of potential for scenarios as described above when on-boarding new employees at their service centers. AI-features will help to foster instant productivity while they help to build knowledge quickly by gaining confidence in solving cases. Furthermore, AI-driven searches already outshine standard full text searches by a wide margin. Machine learning models do not only understand the content of any written text but they also learn and improve over time. If the service agent likes a suggestion made by the AI, then this is fed back into the system and will rank that solution higher compared to others. Hence, suggestions of similar cases will improve over time.
Your service center will change - our solutions will evolve
Serviceware is always looking into venues to enhance its solutions based on popular customer and market demand. The functionalities featured in this blog article are currently being evaluated within the context of our Serviceware Processes solution for ITSM and CSM. However, this blog entry describes potential technical features and potential use-cases. It is not to be seen as an announcement. For offical product announcements, please refer to our News section.