One essential factor of success in good Customer Service Management (CSM) is giving customers the possibility to reach you on relevant and easily accessible channels and there are different approaches for executing this. The most prominent methods are so-called multichannel and omnichannel strategies. I would like to analyze both strategies in-depth and explain why we recommend the former over the latter in many customer service situations. Furthermore, we will discuss the potential that modern messaging apps play in this context.
What does "Multichannel" mean?
As the name suggests, multichannel strategies aim at offering customer service on multiple channels. If your service center can be reached via phone, email, and chat, you are effectively offering three different channels that customers can use to get in touch and solve their problems. Each channel is their own – internally more or less self-regulated – silo, whose owners put their strategic and operational focus primarily on this channel. The difference between multichannel and omnichannel strategies comes from the different approaches to integrating the existing channels.
Multichannel vs. Omnichannel
There is a current trend – likely due to the sheer number of available channels – that signal omnichannel services as the way to go. While channels in a multichannel strategy are treated as separate entities, omnichannel strategies count on a holistic and systematic integration of all available channels. The focus lies on creating a complete and detailed client history, giving insight into the whens, whos, and whats of all customer contacts. Therefore, the exact mapping of the customer journey is recorded and analyzed in greater detail.
Intuitively this might sound like omnichannel strategies are in fact the way to go, but this more complex interconnection of channels and processes can also lead to a neglect of customer orientation. Integrated processes and detailed customer journey mapping sound good in theory, but especially in customer services, all of these integrated and interlocked systems can negatively impact the quality of your services per channel. Many companies (in the B2B environment in particular) could make a real difference by opting for a selective but more specialized multichannel strategy. Here, the mix of channels you use should be based on the preferences of your target audience and not the other way around. Often companies think this aspect from the inside out and design these services without paying attention to changes in how people use media differently over time.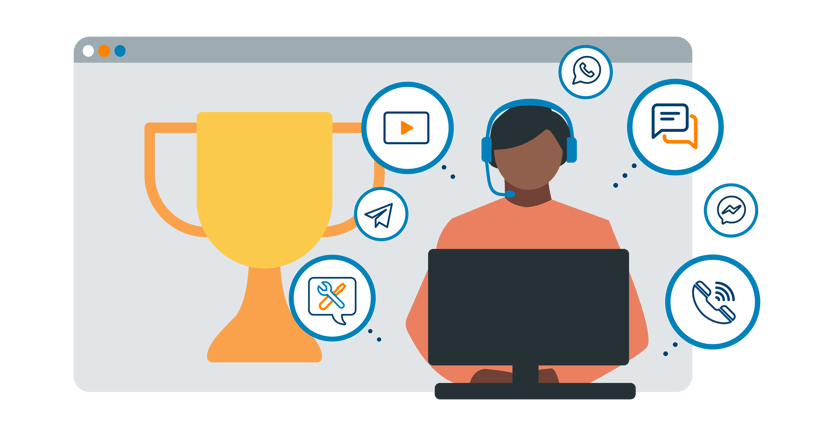 Choosing and implementing the right strategy is the key to success in customer service
Messaging as an element of a successful multichannel strategy
When talking about the right communication channels, messaging is often one of the hot topics. Messaging apps like WhatsApp, Facebook Messenger, or Telegram have become ingrained into the multimedia landscape and billions of people worldwide use them today. Furthermore, messenger apps have achieved what phone and email are currently failing at - they manage to bridge generational gaps. From teenagers to grandparents, basically everyone uses messenger services to stay in touch with each other. That's why messaging apps are the perfect opportunity to improve your customer service.

A majority of your potential customers are already used to the medium to begin with and the possibility of using it as a channel to manage customer service inquiries makes sense. If you want to plan and implement a multichannel strategy for your Customer Service Management, you should keep the low-risk high-reward potential of competent messenger support in mind.
Advantages of messaging in customer service:
Happier customers due to the combination of live and asynchronous services as well as a modern customer experience (conversational user experience)
Faster, easier, more direct support thanks to immediate transmission of images, videos and other files
Lower costs per customer case and higher productivity thanks to parallel management of tickets (as compared to e.g. phone customer service)
More transparency thanks to a steady documentation of important processes and communication data
Conclusion
Whether you decide to implement a multichannel or an omnichannel strategy, the most important thing is that you keep a holistic 360° perspective on your customer data and customer needs. Companies that are currently building or restructuring their services should keep the potential of messaging services in mind. Many organizations might be able to not only delight their target audience and their employees, but also uncover even more advantages this new medium can bring to the table. Moreover, implementing official messaging solutions will prevent the usage of private messengers (shadow IT) which in turn will mitigate risks. Lastly, a more specialized CSM can increase productivity while reducing the actual costs per customer case.
Do you want to learn more about how to make your customer service ready for the digital age? Serviceware offers tailor-made software solutions and personal consulting to find the right way to optimize your customer service. Get in touch and get a free demo of our solutions.