I recently hosted a webinar on the BrightTalk platform entitled Securing Liquidity in A Downturn by Assessing Cloud Spend. Here I discussed how on average 23% of IT expenses come from cloud costs – so why not focus on this chunk as the target to save costs immediately and deliver the results the CFO is calling for?

These savings can also bring you long-term benefits as it looks likely cloud costs will only increase as part of digital transformation programs. If your IT budget is $100m and $23m of that is on cloud, even a slight percentage reduction can save you millions.

So, let's go for it…. Well, maybe…
Cloud costs as a promising target for cost cutting
Cloud costs are perhaps easier to target as was explained by Knut Grahlmann from PwC who joined me in the webinar. He is an ITFM specialist and part of the CIO advisory team in the Netherlands and said he sees companies struggling with their funding and revenue streams and that cutting costs is an absolute necessity at the moment.

He said those who do not invest in digital transformation will be lagging behind others and with cloud you can be much quicker in scaling up and down your costs as it is elastic and moves with demand. Compare this to in-house solutions, the cost structures are very flat and not as flexible.

Obviously, cloud is a powerful lever to secure liquidity and certainly should be incorporated into your plans.
5 cost-cutting recommendations for cloud services
I looked at the top cost-cutting recommendations from Gartner and discussed how these could be utilized in a cloud environment.
1. Target immediate impact:
Cloud offers real-time monitoring and flexible payments. You can see how much is used versus how much is spent. You can calculate what is needed almost on a second-by-second basis.
2. Reduce, don't freeze:
In cloud environments your spending is easily scalable. You can adjust your levers in a very flexible way.
3. Treat cash as king:
Again flexibility is key. Short-term billing periods allow you to cut back with immediate results.
4. Target unspent and uncommitted expenses:
With limited lock-in you can swap between a selection of providers with cloud. You are not tied as much as with other expenses.
5. Consider variable and fixed costs:
Cloud is an operating expense so it is easy to tackle, again due to its flexibility. In addition, cloud vendors do offer the capability of managing your spend.
Surely, this is the easiest way to secure liquidity within an economic downturn?
Approaching a holistic view of your costs
The answer is: Yes, but only partly. This 23% of IT budgets on cloud spend is important and perhaps offers the immediate fixes that financial managers are under pressure to deliver in this economy. But why leave the 77% behind? Who is on 100% cloud usage at the moment? I would estimate, judging from our own customers, that they use a 60-40 split in favor of on-premise vs. cloud.

For me, and what I would advise executives to look for in securing liquidity in a downturn, is to take a holistic view and target all of your costs to free up money for investment into digital transformation so you don't lag behind.
You cannot reasonably tweak your spend by just looking at cloud costs alone. The dependency between ingredients is far too complex.
Often in large organizations the structure is complex with a mix of on-premise and cloud services depending on the business unit, operation, or geography. And it is not until you get that complete visibility across your organization that true and long-lasting benefits can be reached.

In fact, if you pull out certain ingredients from your business service supply chain, you might end up with a car without a right-sized engine. So, you might reduce unit costs on certain assets but crash with the value delivery of the service.
Conclusion
Ask yourself:
How are my services composed end to end?
How many service units do I need to deliver to my clients? Am I maintaining excess capacities?
What are the most sensitive parts to consider? (Rank them by importance)
What assets can I reduce/renegotiate without sacrificing the perceived value of the service? (Do a scenario analysis with different components and isolate cost drivers)
How can you delegate vendor management to procurement with the newly added insights?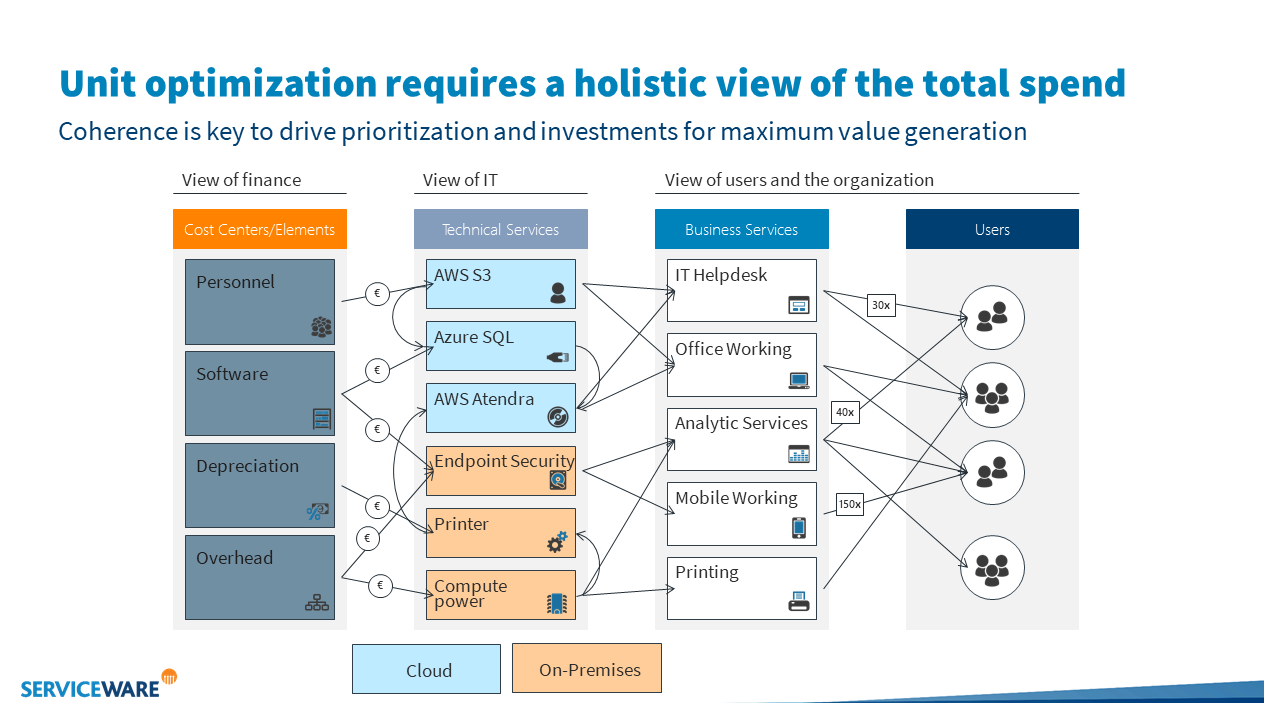 A holistic view on your total spend is key to short- and long-term cost-cutting
In summary, if you want to tweak your expenses without sacrificing the quality of your services, you need to have an end-to-end view across your whole portfolio, covering cloud and on-premise costs. This will allow you to work on cloud costs AND make versed decision about make-or-buy without creating side effects that harm your execution. From experience we see that our clients can easily shrink their run costs by 5% to reallocate the resources to more appealing and business driving growth initiatives.

Do you want to know more? To help CIOs and CFOs master the challenges of the current economy, our sales experts have prepared a selection of free resources on how you can adjust planning and budgeting. Make short-term cost cuts and retain the possibility to keep investing in promising growth projects. Have a look and sign up for free consulting with one of our consultants.