IT Leaders are under more intense pressure than ever before to perform and deliver for their businesses. Is a centralised or decentralised organisational structure the key to helping CIOs manage and respond to the ever-changing pressures they face? Or is a hybrid variant the way to go?

In these challenging times it seems change is the only constant and this is precisely true for organisations that deliver IT business services. CIOs are required to ensure services are delivered without interruption to ensure business resilience and continuity. This isn't always easy, even Google's Cloud Platform suffered an outage in mid-December taking out Gmail, YouTube and Snapchat and more recently Slack had problems. Demands are shifting and there is real need for agile and flexible teams. This means having the right skills in the right place at the right time to ensure the lights are kept on and strategic initiatives are delivered.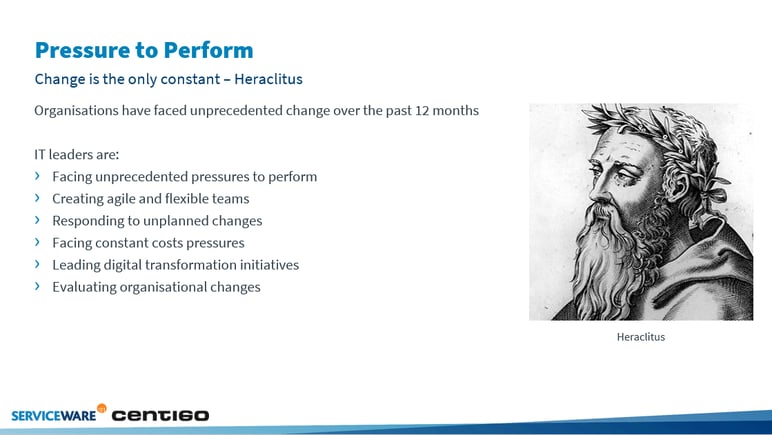 We need to be able to respond to unforeseen changes. The global pandemic has changed and will continue to change what we do and how we operate. IT leaders need to be able to respond in a timely way to both planned and unplanned changes. And furthermore, as the economy is squeezed, CIOs need to manage increasing cost pressures and do more with less.
Digital transformation has become crucial for many to survive. As the nature of business changes, IT and business leaders are looking at their organisation structures. Does the current set up support and help accelerate the goals and strategies of the enterprise or is a transformation needed?


Many CIOs are looking at the timeless tug of war between centralisation and decentralisation. The first place to start is with the question: Does the organisational structure really matter in meeting the CIO's objectives?
Objectives of CIOs
Keeping the lights on and providing services at an optimal cost and quality

Progressing the organisation's strategic goals to deliver business value
CIOs should leave no stone unturned to ensure that these two goals are met, however before any decisions are made IT leaders need to know:
What investment is needed to transform the organisational structure?

What is the cost profile of the new organisation?

What efficiencies can be generated with no impact on quality to the end users?

Will the organisation be more agile, more able to rapidly meet ever changing business needs and deliver business value?
The road to value in today's business context
Underlying driving forces for changes to organisational structure include globalisation of business and digitalisation. The pandemic has accelerated this and introduced new behaviours and ways of working and living.

To survive in this context, companies need to adapt. A clear trend which we have seen is that organisations look to become more agile and quicker to respond to changes in the market. Decision-making is moving closer to where value is created, typically closer to the customer but it could also be in product development for example. Distributed decision-making is in other words "decentralisation", making business units, local sales companies, product divisions etc. more autonomous. Corporate functions with a group-wide responsibility are increasingly dismantled, including IT services.





In line with this, we see a new breed of organisations emerge, which have applied an agile approach from the outset. They are innovative and outperform incumbents in growth. Very often, they also apply a distributed decision-making which is close to customer.

So what does this mean to the IT function and for you as CIO's, IT directors and heads of business systems? Many of you experience an increase in Shadow IT, ie. the spend on IT which is not part of the IT budget. Many of you also have got an instruction to reduce a larger Group IT function and start coordinating with several smaller IT teams or liaisons in the new and more decentralised organisation. Some of you are regarded as progressive in terms of working in an agile way, and you see opportunities to help the rest of the organisation to be more agile. And you experience the trade-off's between stability and flexibility.

If the mission for a company's IT function overall is to serve its business and the customers to the business as effectively as possible with different digital capabilities and services, a key question is how to design and implement the optimal operating model. And the most optimal operating model for IT will be depend on how the business overall operates. There is a big difference between leading a Centralised IT function from a Decentralised function with regards to what the key focus areas are.

As almost always, the optimal – or golden way – is a blend of both extremes. There are many ways to depict and describe this, such as federated and hybrid models. The key point is to seek synergies and get the best out of two worlds. One may call this Pragmatic - BUT it is important to have some structure and approach to avoid confusion and ultimately disorder complete lack of both control AND flexibility – i.e. the worst of both worlds.


What model to choose and why?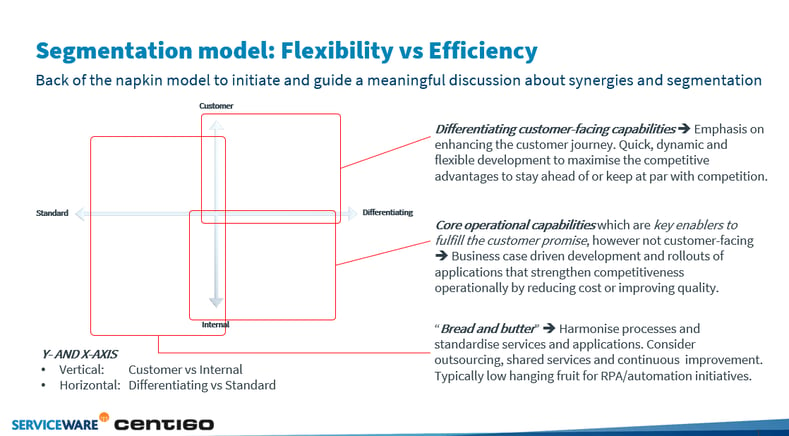 This is a model which has been used to outline what focus – centralised or decentralised – to apply for different IT services areas. It assumes that flexibility and speed are particularly important areas which are close to the customer and for functions which are truly differentiating. To either decentralise or integrate closer (the business and IT) makes sense for those areas, whereas more stable business functions which are not directly differentiating or part of the customer experience can be handled with focus on efficiency and control.
How to make your decision and next steps
Centigo and Serviceware consider the client context, but apply a structured approach which leads to a recommended new operating model for IT and a cost and value model, in effect a new IT budget. This includes not only the running costs but the investments required to move from the current state to the new model in increments or sprints. The time to deliver this approach is pretty much governed by the size of the business, its organisational complexity, geographical disposition and trading priorities. But as a guide from experience 4 to 12 weeks is not uncommon.
Important success factors to bear in mind:
Stay close to your internal customers and understand the needs of their customers

Apply a service structure and orientation

Be prepared to capture and transparently display costs – also understanding the business value of the IT services

Adamantly defend the basics, such as security and data integrity
As we have seen enterprise organisations are under enormous pressures to save costs, while still be quick off the mark and responding to the ever-changing needs of the business driven by the increase in digitisation initiatives. IT leaders need to see how IT is performing - is technology meeting business needs and what is the cost of technology? If that's not enough, IT leaders need to help drive efficiency to make cost savings which could ultimately save jobs and be able to reinvest any savings to support and grow the business.
That's a lot to deal with for any IT leadership team. However, 'what if' changing the way IT works helps meet these challenges?
Serviceware can help answer the timeless question of whether to centralise or not to centralise. Using the 'what-if' capabilities of the software solution an existing baseline of the status quo can be taken. Cost models replicating potential to-be structures of centralised or decentralised IT teams can be created. This will then allow IT leaders to compare running costs of the different scenarios from as-is to could be, be it a fully central or decentralised organisation or even a hybrid.

There is also a lot of cost of transforming IT and this has to be factored into the assessment. Serviceware can support the assessment and determine the fully loaded costing of this transformation initiative. If the decision is made to execute such a project, status reporting and financial management of the project are also do-able within Serviceware Financial, providing IT with the ability to track project costs, project status and finally demonstrate the impact of their decision by showing the changes to the run cost.


This is a summary of the first Serviceware/Centigo webinar of 2021, "The end of Centralised IT?" available on the Brighttalk platform here.
For further information or a demonstration on how this has worked with our customers, please get in touch.

About the authors:

Sanjiv Sachdev, Director, Strategic Value Consulting at Serviceware is an accountant with over 25 years experience. He has worked for VMware and ServiceNow as well and as a consultant with various large organisations including BP, Centrica, and NMBS – the Belgian Railway. He is an expert in managing IT processes including both cost management, and, cost transparency to achieve cost optimization.

Ragnar Agnell is the Founder and Director of Centigo UK. He has held many executive and senior management positions at firms such as Adcore Telecom, IBM Business Innovation Services and Accenture. Ragnar's area of expertise is to help organisations maximise the value of IT and digital capabilities, and to organise and lead change programmes with this objective.